What Makes Organic Farming A Fit For Your Farmland?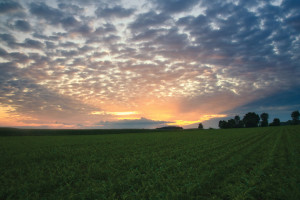 Demand continues to grow in the nation for organically produced foods and grains, and many farmers and landowners across the nation are joining the growing organic trend. Nebraska farmers have also been taking notice. The increasing demand for certified organic products and food are opening up new markets, and many Nebraska farmers are stepping in to fill the niche. Have you ever considered the benefits of using your land to produce organic grains or foods? Would organic farming be a good fit for you and your farm?
The term "organic," when applied to farming, means that foods and grains are produced without using pesticides, non-organic fertilizers, antibiotics, and hormones. Organically grown foods and grains must comply with mandated specifications and regulations set forth by the National Organic Program. Farms must meet specific requirements and be certified by the NOP in order to be considered organic. One of these requirements is that their fields be organic (free from certain synthetic fertilizers and chemicals) for three years before they are able to be certified.
Those applying to be certified must include an application to an accredited agent specifying the four following things:
• The type of operation to be certified
• A history of substances applied to land for the previous 3 years
• The organic products being grown
• The organic system plan describing practices and substances used in production
A drawback at the beginning of the process is that the grain they are producing for the first three years is unable to be sold at the organic prices, even though they are grown using organic practices. Despite the initial hurdles, the payoffs can be substantial; organically produced corn and soybeans can be very profitable for farmers, as they can sell for larger premiums.
Growing organic grains requires different practices than conventional farming, specifically in areas relating to soil composition, weed control, yields, and prices. In particular, weed control for organic farming is perhaps the area which is most divergent from conventional farming, since organic farmers are unable to use conventional methods of weed control, such as spraying herbicides on their crops. Instead, they use other means, such as mowing weeds when they are small, increased cultivation, and adding another crop to the rotation to discourage weed growth, such as rye.
In order for organic farming to be profitable, it is important to make certain that the price premium exceeds the yield loss and higher input costs associated with the practice. While organic farmers traditionally have lower yields, the price of organic grains can be expected to offset those lower yields.
If you're thinking of moving your farmland into organic farming, it is necessary to be aware of the vast differences in farming practices that accompany the venture as opposed to conventional farming. It is also important to keep in mind the nature of your farmland, and if its soil composition is conducive to growing organically produced grain. Finally, consider the geographical location of your land and decide if it is in decent proximity to markets that seek out organically produced grains and food.
Let UFARM help you decide if organic farming is the right fit for you and your land. They have the expertise to match you with the right operator, and the insider's knowledge of the specifics that go along with expanding or changing your landowning goals.
Contributing source: Schober, Marc. "Organic Trends Benefit Farmland." Agweb.com. 15 Dec. 2010. Web. 23 Jan. 2014.
https://ufarm.com/wp-content/uploads/2021/11/UFARMlogo-tagline-1030x326.jpg
0
0
UFARM Managers
https://ufarm.com/wp-content/uploads/2021/11/UFARMlogo-tagline-1030x326.jpg
UFARM Managers
2014-02-06 16:08:17
2014-02-06 16:08:17
What Makes Organic Farming A Fit For Your Farmland?