Land Managers: Helping Both Landowners and Tenants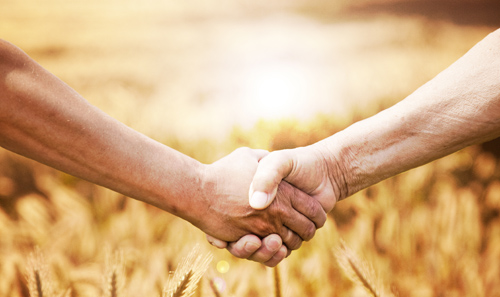 With volatile grain markets and land values, and with increasing amounts of landowners acquiring land as part of an inheritance, or solely as an investment with very little agriculture experience, many are hiring professional land managers to help them run their farming operations. Even farmers with experience and close ties to the land often turn to land managers to help them negotiate fairly with tenants, or to ask their advice about any number of farming issues—be it the cost of fertilizer or news about the latest farm bill programs.
Despite the overall value that many see in maintaining a relationship with a land manager, there are still pockets of resistance, especially among those who hold the impression that land managers work only for the landowner, and not the tenant who farms the land. Land managers work continually to dispel this myth, and hold their legal fiduciary duty to put their clients' interests ahead of their own in high regard. This duty applies not only to the landowner, but to the farmer as well.
Resistance to land managers on the part of tenants is something that UFARM managers are familiar with. Their advice to landowners is; if your tenant dislikes the idea of the involvement of a land manager, then you should run, not walk to hire a manager, because something may be amuck. While this may not be the case in every instance, land managers hold their responsibilities to all their clients—be they landowners or tenants—in high regard, and are able to sort out complicated farming situations if the need arises.
Often, this is in helping to negotiate rental agreements between landowners and tenants that are mutually agreeable to each party. In these situations, farm managers are able to act as an impartial third party, and for those who desire it, can keep such relationships at arm's length. Even in good landlord/tenant relationships, a third party is sought simply to keep the relationship running smoothly, which is often the case when it takes place between family members.
UFARM managers feel like an important liaison with both owners and tenants. Some tenants contact UFARM managers to check fertilizer prices, chemical prices, and new technologies. A qualified land manager holds value for not only the landowner, but can be an important resource for tenants as well.
If you are considering hiring a land manager for your farm, contact UFARM for a free consultation. We are glad to help you determine if our services are right for you. United Farm and Ranch Management (UFARM) is a Nebraska-based company devoted to meeting landowners' needs. UFARM offers a full range of Nebraska land management services, including real estate sales, rural property appraisals, consultations and crop insurance. UFARM has operated in Nebraska since the early 1930's. Contact us today!
Source consulted: Knutson, Jonathan. "Hiring Expert Help." Agweek. Agweek.com. 18 Feb. 2013. Web. 03 Nov. 2014.
https://ufarm.com/wp-content/uploads/2021/11/UFARMlogo-tagline-1030x326.jpg
0
0
UFARM Managers
https://ufarm.com/wp-content/uploads/2021/11/UFARMlogo-tagline-1030x326.jpg
UFARM Managers
2014-11-05 15:52:16
2014-11-05 15:52:16
Land Managers: Helping Both Landowners and Tenants