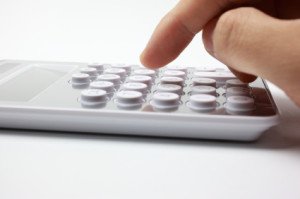 After the USDA's August WASDE report emerged with record corn and soybean yield volumes for the 2014 harvest, farmers braced themselves for the bearish trend in corn and soybeans prices to continue. The market didn't disappoint; corn and soybean prices have continued their downward trend.
While farmers prepare to head into their fields for harvest very soon, market analysts are busy putting together their market forecasts, both for the short and longer term. While there are many variables that could change the commodity prices and the market outlook as a whole, the numbers put forth do aid farmers, ag lenders, and ag policy makers in their long-term decision making.
One such projection is the USDA's National Agricultural Statistics Service (NASS), which periodically puts out baseline price projections for the next decade. They released their latest ten-year projection last August, for 2013-2022. Despite grain prices at lower levels, the NASS based their latest set of projections upon the following assumptions: One, that the continued strong global demand for US grain would continue, with steady growth in the world economy. Two, that domestic ethanol production would rebound from 2012, although new ethanol production industries expansion will be slow. And, lastly, that corn and soybean prices not fall below 2007 levels.
So, what exactly did the NASS forecast? Based upon corn and soybean production, usage, ending stocks, farm level prices for the next decade, it appears that corn and soybean producers can expect much tighter profit margins over the coming decade than they've enjoyed in recent years. Accompanying these tighter profit margins are lower and moderating crop input costs, lower cash rental rates, as well as increased pressure on land values. While this isn't good news for grain producers, it should be noted that the projected strong global demand for US grain could mean price spikes, should a weather related event impact yield volumes, as has happened in the past.
In addition to the NASS projections, the University of Missouri's Food and Agricultural Policy Institute (FAPRI) issued its own report, stating that corn and soybean prices are going to drop even more than expected, due to larger than expected yields. These large-volume yield expectations prompted FAPRI to lower average farm corn prices to $3.50 for 2014/15, soybean prices to $9.92/bu. and all wheat prices to $5.91. All are lower than FAPRI's August update of its annual March long-term baseline.
While this is by no means good news for grain farmers, Top Producer Business and Issues Editor, Ed Clark, writes, "Keep in mind these are annual estimates and prices during the year might offer producers marketing options above breakeven, cautions Pat Westhoff, director, FAPRI. Corn prices, for instance, could be $1/bu. above or below these averages depending on how key variables play out, he notes. By 2015/16, corn prices are forecast to rise 30 cents to $3.80/bu. Prices average $4.10 from 2016 to 2018."
It should also be noted that under the new 2014 Farm Bill, producers must make a one-time decision to participate in either the Agriculture Risk Coverage (ARC) or the Price Loss Coverage (PLC) program for the life of the five-year bill, and how much they might get in payments is very reliant to expected crop prices.
Are you concerned about how the latest grain prices could affect your farm's tenant? Bring your concerns to a UFARM expert, and they'll help you make important decisions that will ensure the long-term viability of your land.
United Farm and Ranch Management (UFARM) is a Nebraska-based company devoted to meeting landowners' needs. UFARM offers a full range of Nebraska land management services, including real estate sales, rural property appraisals, consultations and crop insurance. UFARM has operated in Nebraska since the early 1930's. Contact Us.
Sources consulted:
Clark, Ed. "Corn Price Outlook Falls to $3.50 for 2014-2015." Agweb.com. Farm Journal. 19 Sep. 2014. Web. 22 Sep. 2014.
Davis, John. "FAPRI: Crop Prices Dropping Even More." Agwired.com. 18 Sep. 2014. Web. 22 Sep. 2014.
Thiesse, Kent. "USDA Projections for the Next Decade." Corn and Soybean Digest. 06 Aut. 2013. Web. 22 Sep. 2014.
https://ufarm.com/wp-content/uploads/2017/01/UFARMlogo-tagline-300x95.jpg
0
0
UFARM Managers
https://ufarm.com/wp-content/uploads/2017/01/UFARMlogo-tagline-300x95.jpg
UFARM Managers
2014-09-26 17:01:33
2014-09-26 17:01:33
Corn and Soybean Price Projections for Nebraska Farmers